This is as it redeemed the promise to the 14 SMEs that emerged winners from its Valentine's Day promo tagged 'Propertymart SMEs Valentine's Grant' held earlier in the year.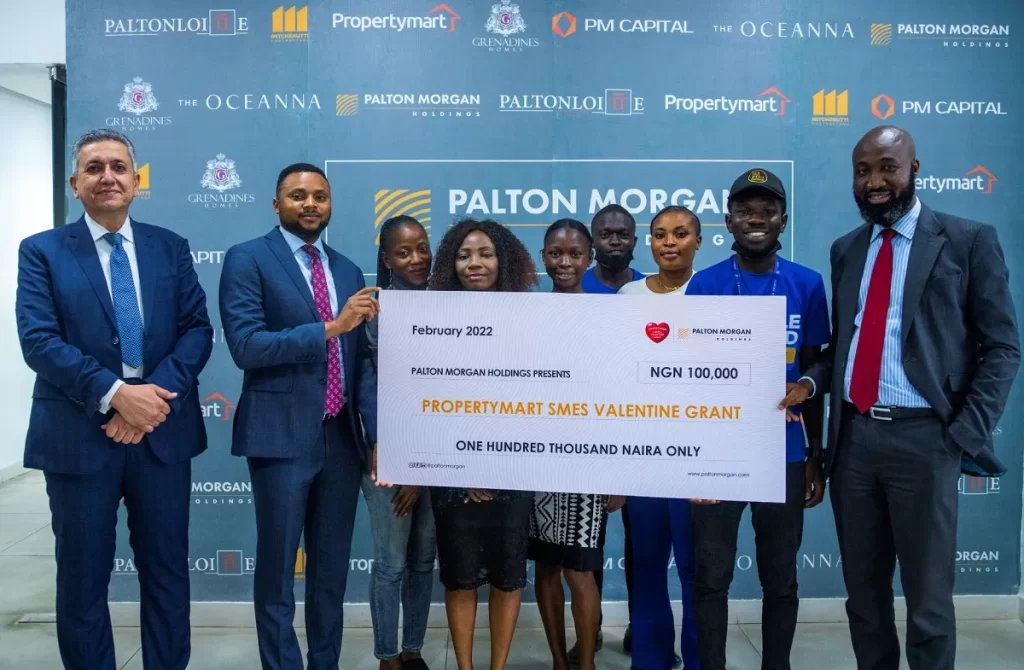 Palton Morgan, through its leading subsidiary, Propertymart Real Estate Investment Limited, has affirmed its commitment to the empowerment of Small and Medium Enterprises (SMEs) by supporting them with N100,000 cash grants.
This is as it redeemed the promise to the 14 SMEs that emerged winners from its Valentine's Day promo tagged 'Propertymart SMEs Valentine's Grant' held earlier in the year.
The online campaign which held between February 14 and February 28 had participants sending in sone-minute video describing their businesses, their inspirations, and how a grant of N100,000 will impact them.
Entries were judged based on the compelling startup stories, the proposed best use of the N100,000 grant, and the level of engagement on social media.
The winners who met all the criteria were announced in March 7 and received their prizes recently at Palton Morgan Head Office in Victoria Island.
Speaking while presenting the cheques to the winners, Nidal Turjman, Group Chief Operating Officer, Palton Morgan Holdings, highlighted the importance of giving back to society and disclosed the idea behind the initiative.
"We understand that the SME segment is an important sector of the economy, and we wanted to acknowledge them for their brilliant ideas. The initiative started with our key objective to motivate them and is a part of our corporate social responsibility. We are not looking for only profit; we are also giving back to the society by helping SMEs," said Turjman.
"We hold our word in high regard, and we are happy that the winners have all received their grant. We will continue to encourage SMEs, not only on valentine's day but anytime in the year. That is the least we can do for society," he added.
Sharing their happiness after receiving the grants, the winners appreciated Palton Morgan's gesture, disclosing that it means a lot to them and their business growth.
Temiloluwa Ajet, who runs a male fabrics business, said, "This was a pleasant surprise, and I wish to express my appreciation to Palton Morgan for this grant. I usually get orders in bulk sometimes, and I'm sometimes unable to deliver due to financial constraints. But with this money now, I'll be able to get materials in bulk and deliver to my customers," she said.
Adeshola Araoye expressed the same sentiment, commending Palton Morgan for fulfilling its promise.
"With a lot going on in social media right now, one will always be sceptical about giveaways. When I saw my name on their page as part of their winners, I waited for like two, three days without hearing from them; I started doubting them. Today, they've proved to me that they keep to their word," Araoye said.
Olawumi Beatrice, who heard about the SME grant through a friend, also praised Palton Morgan for the initiative, disclosing the money's impact on her business. "Thank you to Palton Morgan for impacting lives and supporting small businesses like mine. There is a particular machine I've wanted to get that will help my work become fast; with this grant now, I'll be able to get that machine and also get a small space to display my goods," she said.
Another beneficiary, Oluwatobi Ogunyemi, who runs an educational tutorial centre, lauded Palton Morgan's integrity, saying, "I am surprised companies like this still exist. I was a bit sceptical about participating in this giveaway, but they proved me wrong at the end of the day."
He added that "one of the major challenges I face is finance and getting tutors to teach the students. But now, with this money, I'll be able to get new instructional materials that will facilitate learning and convince more people to be part of the tutors. Teaching is more of giving back to the society, so it has to be people that have passion for the job."
Since its incorporation in 2008, Propertymart has embarked on several corporate social responsibility initiatives.
It offers scholarships to outstanding high school students and carries out training programs.
During the COVID-19 lockdown, Propertymart donated relief items running into millions of naira to Lagosians.